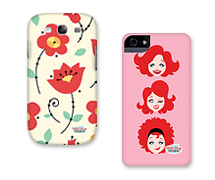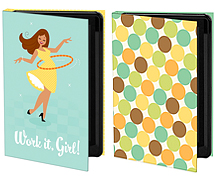 Protect your smart phone or tablet while adding some flair at the same time with Caleb Gray Studio's line of covers with Keka Case! The Keka snap-on cases for phones or tablets are durable hard-shells uniquely designed to protect your device. Designs are printed in full 3D wrap with a glossy finish. Phone cases are available in Slim-Fit or Tough, which has a black silicone interior sleeve for added protection.
Keka also offers book bound cases for your iPad or Kindle using traditional binding techniques, eco-friendly inks, and the same vinyl used on race cars. An overlaminate is then added to make the cover resist tears, stains, and water before it's wrapped around recycled book boards. A polycarbonate shell holds an iPad 2, 3, 4, Kindle, or Kindle Fire securely in place and the iPad 1 slips snugly into a bonded leather holder. The iPad 2, 3, and 4 versions also support the wake on open/sleep on close feature. Plus, the iPad case also doubles as a stand in landscape mode. Just prop it up, and you're ready for your presentation or movie!
So the only question is, which design will you choose?